Once you're registered in an online casino, you'll likely want to start looking for games to play. Online slots are great for beginners since there's no need to study strategy to get started. You only need to know which online slot machines pay the best.
The slots with the highest payouts usually have high variance or risk. These slots don't pay out as much as low variance ones, but the payout is big when gamblers get lucky. But before going out to play the highest-paying slot machines, you should first know the differences between different slots.
Types of Slot Games
Online casinos and gaming providers offer plenty of different slot machines, and it can get confusing which slots are the best when you don't know the differences between them. Written below are different types of slot games:
Basic Slots
Basic slots are arguably the simplest slots you can find in a casino. These are three-reel machines with a single payline. The prize stays the same, and there are no special features to speak of.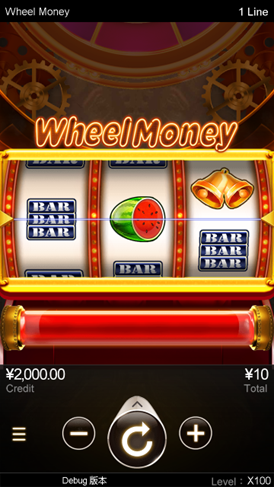 Classic Slots
Classic slots are another simple variant of slots, but with three to five reels depending on the machine. Classic slots are also known as "fruities" because they use the following symbols:
Lemons
Cherries
Poker high cards
Liberty Bells
Lucky 7s
Many casinos offer classic slots as free credit no deposit slots in Singapore, especially with the modern adaptations to the game with the no deposit free spins and bonus rounds.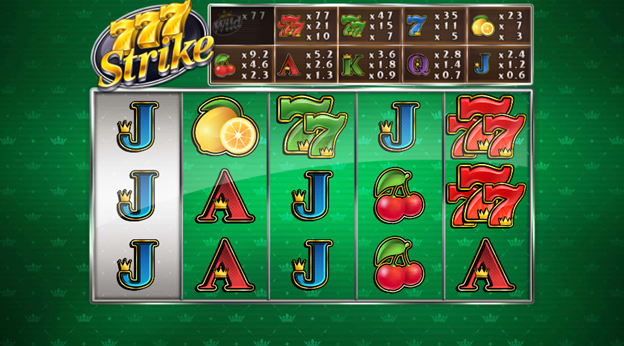 Video Slots
Gamblers will find traditional mechanical slots in traditional casinos and video slots in online casinos. As the name suggests, video slots do not have mechanical levers, and players can only play the game digitally.
Pragmatic Play is a popular gaming provider for video slots, with much more available through 88ProBet. By gambling through 88ProBet, gamblers can access multiple games with varying numbers of reels and paylines.
All the slot machines in this article are video slots.
Multi-Payline Slots
Multi-payline slots are a modern slot machine adaptation that allows gamblers to win big when hitting specific paylines. Gamblers can hit multiple paylines in one spin if they get lucky, allowing them to win more after a lucky spin.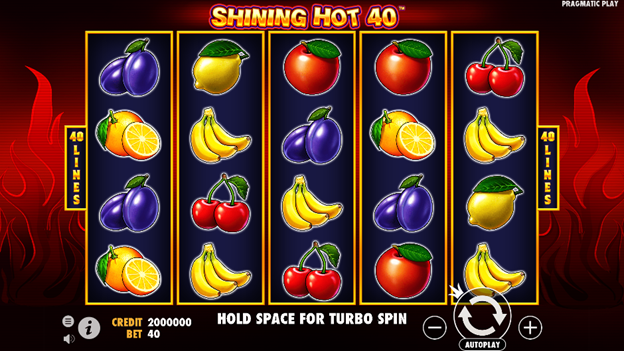 Multi-payline slots can have anywhere from three to a hundred paylines.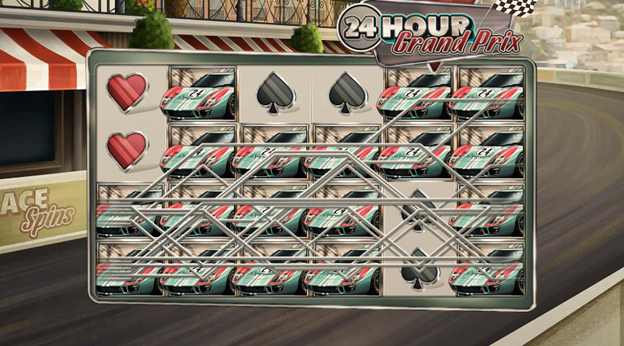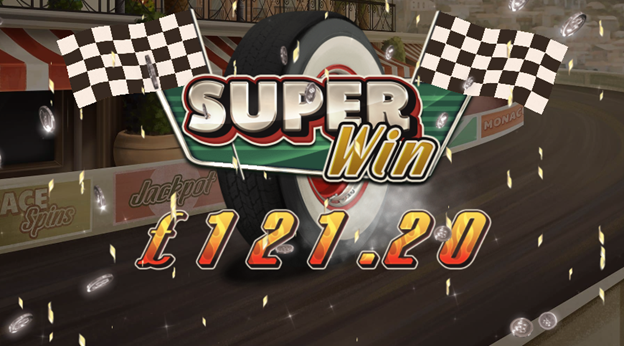 All-Ways Slots
Not all slot machines have paylines, as all-ways slots dispense with the traditional win-lines. The difference between all-ways and payline slots is that gamblers need to land symbols on consecutive reels without being limited to win lines in all-ways. All-ways slots tell how many ways people will win at the slot, with the most common being the following:
243-Ways Slots, 5 reels and 3 rows
1024-Ways Slots, 5 reels and 4 rows
3125-Ways Slots 5 reels and 5 rows

In all-ways slots, winning symbol combinations are created in any position on the slots reels running from left to right. CQ9 Gaming's Mirror Mirror is an example of a 3-4-4-4-3 576-ways slot where winning combinations disappear, and new symbols drop down that can potentially create more winning conditions.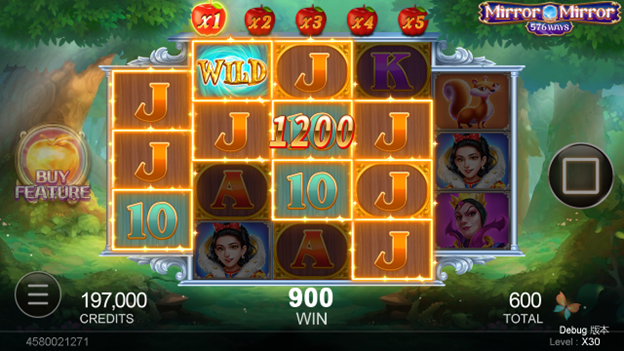 Jackpot Slots
Jackpot slot machines are slots that allow players to win big after activating jackpots and winning them. Different slot machines have different ways to activate jackpots, especially since there are several types of jackpot slots as well.
Fixed-Jackpot Slots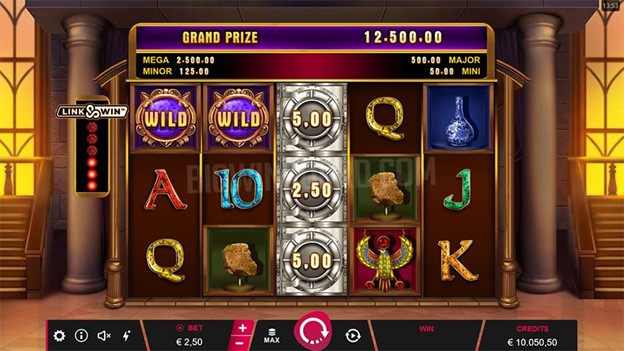 Fixed-jackpot slots have a fixed cash prize that isn't affected by bet sizes. The payout is usually not that high; players usually have better chances of winning this jackpot than others.
Progressive Slot Games
Progressive jackpot slots are undoubtedly the slots with the highest payout, thanks to the jackpot that people can win. Every spin of the reels contributes to the total pot that a gambler can win, so the jackpot prize increases as people play.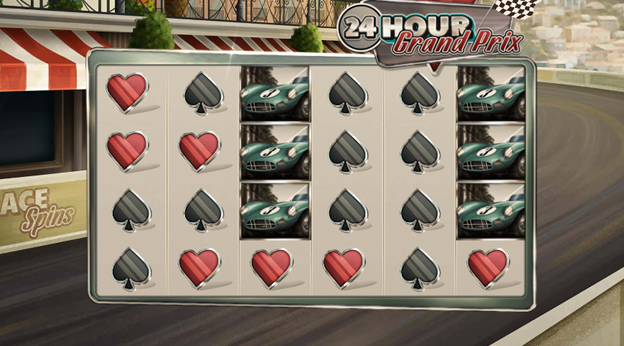 One example of a progressive jackpot slot is Red Tiger's 24 Hour Grand Prix with three jackpots. The jackpot feature is unlocked when three jackpot symbols land anywhere on the reels. The jackpot people can win depends on where the arrow lands in the jackpot wheel feature. The jackpots are the Hourly Jackpot, Daily Jackpot, and Big Drop Jackpot.
Other progressive slot machines can have more jackpots, depending on the programmer.
Wide Area Progressive Jackpot Slots
Another version of the progressive jackpot slot is the wide-area version of the game. This progressive slot adds a further layer to the machine by allowing multiple players across different machines and online platforms to contribute to the pool, allowing the winnings to reach millions of dollars.
One popular wide-area progressive jackpot is Mega Moolah from Microgaming. Jon Heywood won $13 million from this game.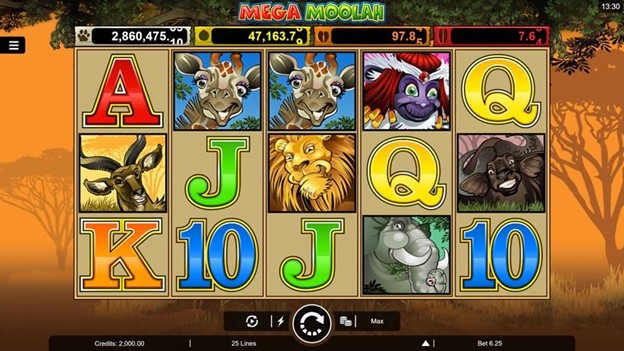 What to Keep in Mind When Choosing Slots?
Now that you know the different slot machines to play, you'll still need to remember certain things when picking one to play. The things to remember are both the RTP or Return to Player and Volatility.
What is RTP?
The Return to Player determines the house's edge on a particular casino game. For slots, this means the chances of winning back your money, and different machines can have different RTPs regardless of the machine. Even basic one-payline slots can even have lower RTP than multi-payline slots.
Slot machines can be classified into three different RTPs.
High-RTP Slots
If you want to win frequently, you should focus more on high-RTP slots. High-RTP slots or loose slots are machines with a 2% house edge and a 98% edge for the player. This allows players to make a small profit over a long game period.
Medium-RTP Slots
When high-RTP slots aren't enough for you, you can try going for medium-RTP slots. These slots give players better odds of doubling their bets after many spins. The RTP ranges from 95% to 97.99%, and the house edge is as high as 5%.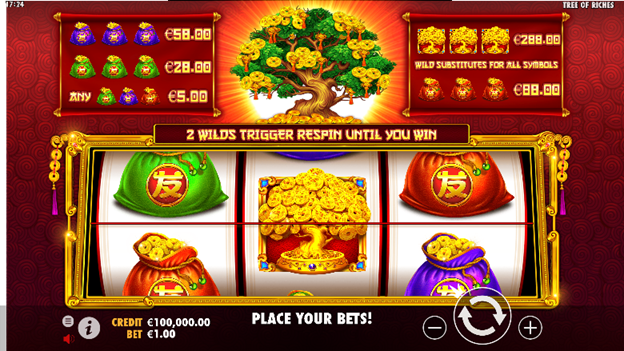 Low-RTP Slots
If winning frequent small winnings isn't good enough for you, and you want to win big, you should consider playing low-RTP slots. Low-RTP slot machines are all about high risks and high rewards, and the RTP ranges from 94.99% to as low as 80%, which means that the house edge can go up to 20%
Low-RTP slots are best for high-rollers and gamblers who want to play jackpot slots. Anyone who wants to try winning big should play these slot machines. Mega Moolah is one example of a low-RTP slot with an 88.12% RTP.
What is Variance?
Variance or volatility determines the frequency of how often a video slot machine will pay out. Some slots pay out a lot while others don't, and it's not exactly easy to determine whether a slot is a low or high variance slot. Unlike RTP, variance can't be expressed with a number.
Gamblers must play 100 spins in one game when calculating variance. If the gambler wins 30% out of the hundred spins, then the machine's a low-variance game. A 20-25% hit rate makes a slot a medium-variance game, while high-variance games have a 15% hit rate.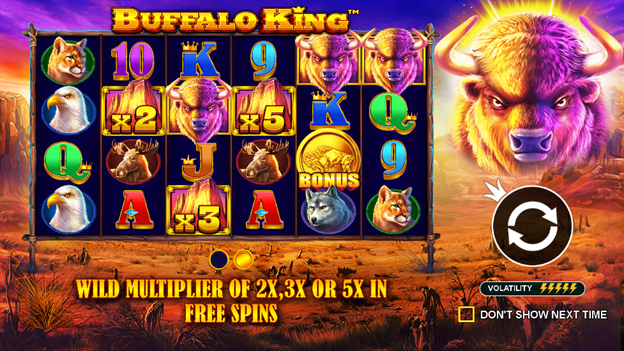 If you want to play high-variance games, you should keep the following in mind to ensure that you're playing the right machine:
Jackpot size– bigger jackpots are always better since this means bigger, even infrequent, potential payouts that make it worthwhile to play the game
Number of large payouts– larger payouts, even if they aren't jackpots, make the game worth playing
Number of small payouts– smaller payouts might not be enough even to recoup losses
Bonus features– more features mean more chances of winning big
Number of lines/ways to win– more paylines or ways to win gives you more chances of winning spins
Conclusion
You have a lot of choices when choosing a slot game online in Singapore. Beginners can stick to basic, classic, or high-RTP multi-payline or all-ways slots. The RTP is easy enough to see since the provider usually gives this information beforehand, so gamblers can easily look for high-RTP slots if they want to.
If you want to challenge yourself, you can play jackpot slots and even try figuring out the variance of several slots. Of course, you can try sticking with Mirror Mirror or other slot games we provided above if you don't really want to do the trial and error to find out what slot game is right for you.
You'll still need to know where to play slots, and 88ProBet, an online betting platform in Singapore, is an excellent place to play. Register with us now to get started with your online gaming career.
Read More: Debunking Different Myths and Misconceptions about Slot Games