Betting markets in any sport require time and effort to understand and win. This is especially true for rookie bettors who are looking for stable wins. As time goes by, through gaining experience and improving betting skills, bettors can wager in complex Singapore sports bet markets that provide better odds and more thrill. Here are the top 3 hardest betting markets that will surely bring more excitement and better payouts for bettors:
Correct Score
This football betting market requires bettors to predict the end goal result of a soccer game. It may sound easy to bet in this betting market, but accurately predicting the total game score is not an easy task. This requires extensive research and analysis of each player and team. Since it requires sharp accuracy, it increases the level of challenge it provides to bettors. Here's an example from CMDBet:

In this match between Shimizu S-Pulse vs. Jubilo Iwata, there are 25 score predictions with corresponding odds under them in bold. Not including the last option on the far right, AOS, which stands for "Any other score" or any score not listed in the selection.
Suppose a bettor is confident that the match will end with a 3-3 score standing and wagered $100 for it. The game ended as the bettor had predicted and won the bet. Since a 3-3 score standing has the odds of 65, the bettor's total return will be $650.
European Handicap
It is also known as a 3-way handicap. This handicap has the same mechanics as the Asian handicap. The handicap is put to the superior team, and the goal advantage is given to the underdogs. The only difference is that European handicap has three options: home team win, away team win, and draw. Asian handicap is already complicated. If it still lacks thrill for you, European handicap will up the challenge. Here is an example from CMDBet to help you understand.
Western United (Home) Vs. Macarthur (Away)


The home team is superior in this match, receiving a -1 handicap from the sportsbook. Suppose a bettor is to stake on the home team, Western United needs to win the game by at least two goals for the bet to stake to win. On the other hand, if the bettor is to bet on the away team who received a +1 goal advantage, Macarthur FC should either win, lose by one goal, or draw the match. If the bettor wagers on a draw, the home team must win by one goal for the bet to win.
Half-time/Full-time market
This soccer betting market requires bettors to accurately predict both full-time and half-time match results. Unlike Half-time bets, where the bettor's only goal is to predict which team will win the first half, the half-time/Full-time betting market requires that you place both full-time and half-time wagers as a combination. Here is a sample of combinations to bet on.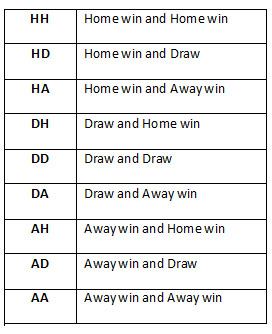 Each bet offers a mix of full-time and half-time results. The prediction must be accurate to profit and win from the offered odds. Accurately predicting both half-time and full-time results requires knowledge of the game, team lineup, and player performance. That is why it can be considered one of the most complex betting markets to win. Here is an example from CMDBet:

Suppose a bettor predicts that Ecuador (Away) will have the half-time and Qatar (Home) to win full-time and wagers for away and home win with the odds of 28. If it wins, the total return will be $280.
Conclusion
Sports betting provides an opportunity to earn money and gives a lot of thrill that challenges a bettor's skills in a sport. That is why some bettors take on sports betting to challenge their knowledge and skills. Although sports betting markets, in general, can be complicated on their own, sports betting has many betting markets that are difficult enough for experienced bettors to take on and receive the thrill and challenge they are looking for, as well as bigger payouts.
To have a better betting experience, visit the best online betting site in Singapore, 88ProBet. Visit www.88probett.com to get the best selection of sportsbooks, slot games, and casino games you can enjoy. Sign up today and receive the best promotions and bonuses.