Football betting is very well known and practiced in many countries worldwide. Football fans and bettors enjoy the thrill of being tuned in for every match and aiming for possible earnings. To enjoy football betting online, bettors must look for the best game providers. After signing up with the best online betting site in Singapore, such as 88ProBet which offers four sportsbooks, it can be quite confusing which one to start from. It is also better for bettors if they know each sportsbook to make better decisions. To help with that, here are four game providers or sportsbook and their information.
United Gaming

United Gaming is a registered online gambling company providing sports betting solutions and first-class casino games. This provider offers 60 sports, up to 60,000 unique events per month, and up to a thousand types of football betting markets which offer match sessions of up to 150 soccer leagues for football bettors to enjoy. These leagues include world-famous leagues and other outside big leagues. This sportsbook is one of the well-known sportsbooks in Asia for its competitive football betting markets.
These are the pros and cons of United Gaming
PROS
User-friendly display – The appearance and the user interface in the sportsbook site are simplistic and easy to understand and navigate. Although operating features and menu options are not entirely different from other sportsbooks, it is considerably faster in response than its competitors.
Optimised for mobile devices – This specific provider uses HTML5 technology which is typical for mobile versions for smartphone users. The quicker loading speed and accurate image scale make betting easier for people who use mobile devices.
CONS
Aside from having occasional down times that most sportsbooks usually experience once in a while, United Gaming has no significant downsides.
CMD 368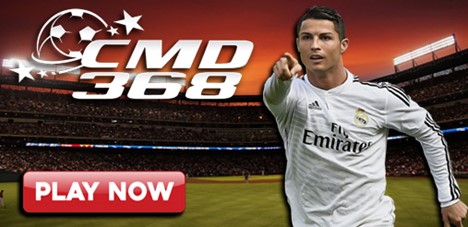 CMD 368 started way back in 2008, meaning they have been around for 14 years. Their long years of service have attracted many bettors in Asia. Considering the overwhelming popularity of Football, it is understandable that it offers a wide selection of football betting markets. Such as Asian Handicaps, Total Goal, Mix Parlay, Special Outright Betting, 1×2 Fixed Odds, Over and Under, Odd and Even, and Correct Score, which is also available for other sports Sportsbook offers. CMD 368 is authorized and licensed by Cagayan Economic Zone and Free Ports. Other authorization and licensing information can be viewed through their website.
These are the pros and cons of CMD 368
PROS
Licensed Sportsbook – As mentioned earlier, this Sportsbook is authorized and licensed. It only signifies that the Sportsbook is safe, legit, and a secure place for bettors to enjoy.
Bonuses and promotions – In CMD 368, bettors are welcomed with generous promotions and bonuses to enjoy, whether new bettors or regulars.
Excellent customer service – CMD 368 has many representatives ready to answer all bettors' questions the quickest possible. Regardless of any issues encountered while betting, contact customer service immediately, and they will resolve the problems immediately.
CONS
Banking options – Due to its limited banking options, whether for deposit or withdrawal, bettors will only have a few chosen platforms to choose from. Thankfully, 88ProBet has a one wallet system that takes care of this problem. One wallet for every different transaction.
SBOBET

SBOBET is also considered one of the best Asian sportsbooks for having multiple awards and titles. This Sportsbook offers in-play betting and lives-streaming, which is advantageous for sports fans and bettors. One of its standout features is offerings for its Asian handicap market, which is different from most sportsbooks. SBOBET, operated by Celton Manx Limited, possesses licenses from the Gambling Supervision Commission in the Isle of Man for operations in Europe and  from the Philippine Amusement and Gaming Corporation (PAGCOR) for operations in Asia.
These are the pros and cons of SBOBET
PROS
Higher bet limit – Compared to competitors, SBOBET has a higher bet limit at £100,000.
Live-streaming and Live betting – With a simple click at the Live betting tab, players can switch to the live betting section, which gives convenience. To make live betting easier, SBOBET TV delivers high-end match live streaming.
CONS
Restricted in many countries – SBOBET cannot be accessed in countries such as Belgium, Afghanistan, Germany, France, French Southern Territories, Greece, Iran, Sudan, Hong Kong, United Kingdom, and Nigeria.
Fewer betting markets – Compared to other sportsbooks, SBOBET has fewer betting markets.
SABA SPORTS

SABA SPORTS is also considered one of the best gaming providers in Asia. Aside from football betting, it also offers other sports such as basketball, cricket, and baseball. It provides almost the same betting markets as its competitors. SABA SPORTS uses human calculated and AI algorithms for their offered odds for more accurate and better offers. It also has up-to-date news about sports happenings worldwide to help bettors quickly get the data they need. For
These are the pros and cons of SBOBET
PROS
Availability – SABA SPORTS is available for bettors to access and enjoy 24/7. Whenever wherever betting for favorite teams and sports is on the go.
Bonuses and promotions – Welcome bonuses for new members can shoot up to 100%. Even regular customers receive promotions and bonuses whenever they make deposits and refer new bettors.
CONS
Limited information – The website makes specific information about licensing and authorization hard to find. Aside from that, SABA Sport offers both entertainment and convenience for bettors.
Conclusion
Sports betting online in Singapore is an activity that almost everyone can enjoy This made it possible for numerous sportsbooks and game providers to emerge. With so many selections, it may be difficult to see which one will be the best for every bettor's taste. Luckily, an excellent online betting site that offers only the best selections of Sportsbook for bettors to enjoy.
To access the best sportsbooks, visit 88ProBet and receive sign-in bonuses and promotions every time you deposit.
 Read More: Top 6 Asian Game Providers to Check Out in 88ProBet